Love has an uncanny way of surprising us when we least expect it. In the picturesque landscape of the San Diego coastline, amidst the breathtaking Sunset Cliffs, a couple's session transformed into a momentous occasion—a surprise proposal. My talented associate Hannah skillfully orchestrated an unforgettable experience for our traveling couple as a Sunset Cliffs proposal photographer.
Hannah did an amazing job of guiding the couple through the session like it was any other San Diego couple's photo shoot. She went through all the typical posing, waiting for the moment when Stephen would pop the question. It's fun to do proposals like's this! Mostly because it takes the pressure off of us to be hiding or pretending to shoot someone else! Plus, it means your significant other is probably already dressed up and ready for the occasion.
Sunset Cliffs Proposal Photographer
Sunset Cliffs, nestled along the San Diego coastline, holds a special place in the hearts of locals and visitors alike. Its rugged beauty and awe-inspiring sunsets make it a prime location for romantic gestures. However, I knew that the cliffs could become overwhelmingly crowded, especially during weekend sunsets. With my expertise, I advised the clients to opt for a weekday session or explore the cliffs during the tranquility of sunrise, providing a different and equally captivating ambiance. Another one of our couples, Aniesa and Nick, opted for a sunrise shoot and it was amazing!
Under the guise of a routine couples' session, Hannah artfully directed the couple through various poses along the stunning San Diego coastline. As the session progressed, the anticipation built, and the surprise proposal drew nearer. With each click of the camera, Hannah captured the essence of the couple's love. She built an atmosphere charged with excitement and emotion.
Surprise Proposals for the Win!
Amidst the crashing waves and the panoramic beauty of the San Diego coastline, our Sunset Cliffs proposal photographer, Hannah, captured Stephen getting down on one knee and pulling out that stunning diamond engagement ring! Sophia's reaction couldn't have been better! And even though the day's weather happened to be a bit moody, it made a perfect color contrast for them!
Hannah's guidance and my expertise on the backend allowed them to relish in the beauty of the Sunset Cliffs without the overwhelming crowds, ensuring an intimate and personalized experience. The photographs from that day serve as a visual reminder of the love, excitement, and anticipation that surrounded this special moment. The San Diego coastline will forever hold a place in their hearts!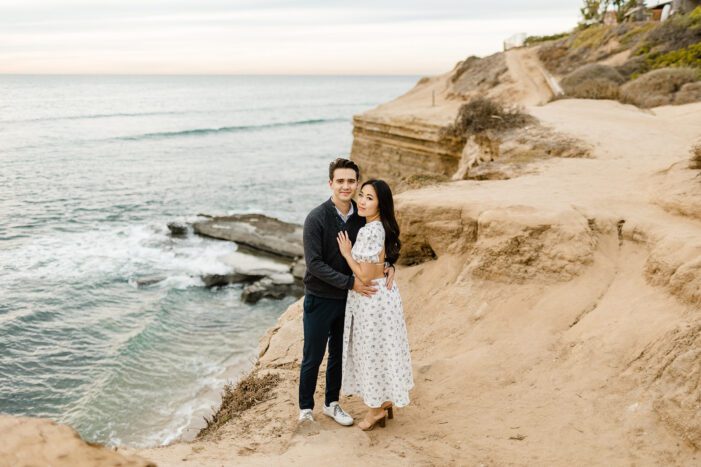 If you're planning your own proposal at Sunset Cliffs, reach out to me to help you plan it!