Seattle's Best Airbnb's for Elopements
It has nearly been an entire year of pivoting in the wedding world. Many of my 2020 wedding couples opted to elope on their original date. The hope was to have a larger gathering planned for a later date.
I love when my couples let me team up with them. As a result, I had a lot of fun this past year. I received multiple opportunities this year to step into the planning world by helping plan small weddings and elopements. (PRO TIP: Hire a coordinator to help plan your wedding! Remember, I can only do so much while I'm photographing your event.)
Featured in this post are photos from Natalie and Nathan's elopement. I also included a snippet of their wedding planning journey.
Teaming up with the couple, I was able to help connect with venues and researched permits for local parks. My favorite part was helping find cute and unique Airbnb's to host an intimate wedding. It looks like I've found a new hobby!
Are you currently starting the planning process of your wedding? Or are you in the midst of rearranging your original plan for the day you've planned? Either way, this post is for you. I promise you can find the perfect location to host your best day over. I team up with my eloping couples to do just that! My intention in this post sparks some joyful inspiration and hope!
Seattle's Best Airbnb's for Elopements
A very large shift in the Airbnb world is that they no longer allow events to happen on site at Airbnb's. Of course, this is up to the host if they will still allow it or not (as the risks of hosting an event how can get them taken off the platform forever). Remember to always check with the host before choosing a location for your elopement or intimate wedding. Always double check rules about dogs, parking, and events!
You can also look at places such as Peerspace and VRBO instead of Airbnb to find the perfect location for your micro wedding or elopement!
---
Read the personal testimonial from the happy couple:
Taylor was incredible in every way! She was our photographer and our officiant as well as the only vendor present for our elopement. If you are looking for someone patient, comfortable, capable and just amazing book with her. Not only were we facing the challenges of COVID 19 but also fires and smoke throughout the PNW. She brought so much ease, joyfulness and flexibility to the process. We couldn't be happier to work with her in keeping the memory of our day alive! - Natalie & Nathan
---
Natalie and Nathan originally planned to get married in Connecticut in the early fall of 2020. But with travel restrictions and Covid-19 on the rise, they decided to stay local. They then reached out to me, and expressed that they wanted to get married at a private Airbnb. Ideally, a place that could double as their mini moon weekend getaway.
We discussed and explored places in Leavenworth, the Olympic Peninsula and even near Mt. Rainier.
They were open to where it was, as long as it was driving distance from Seattle. Their top priority was the PNW vibes and that their dog Marty could stay with them. Swoon all the pup-loving vibes!
We found some really great choices! We started reaching out to the hosts to make sure that they were okay with what we were planning. A few very close friends were invited as their witnesses. I was the only vendor with them on their wedding day as both their photographer and officiant.
This wasn't the only time I was both the officiant and photographer for a private Airbnb elopement! Check out this gallery from an elopement at a cute Leavenworth cabin.
Natalie and Nathan's sweetheart table was put together by Natalie herself, using some of the wedding gifts they had received. Natalie explained that it was a way to feel like they were surrounding by their family and friends, even from a far.
They hired a local florist, Dahlia Fields, for Natalie's boquuet and Nathan's boutonnière. They also enjoyed a gluten free cake by Liberated Foods located in Seattle.
Seattle's Best Airbnb's for your elopement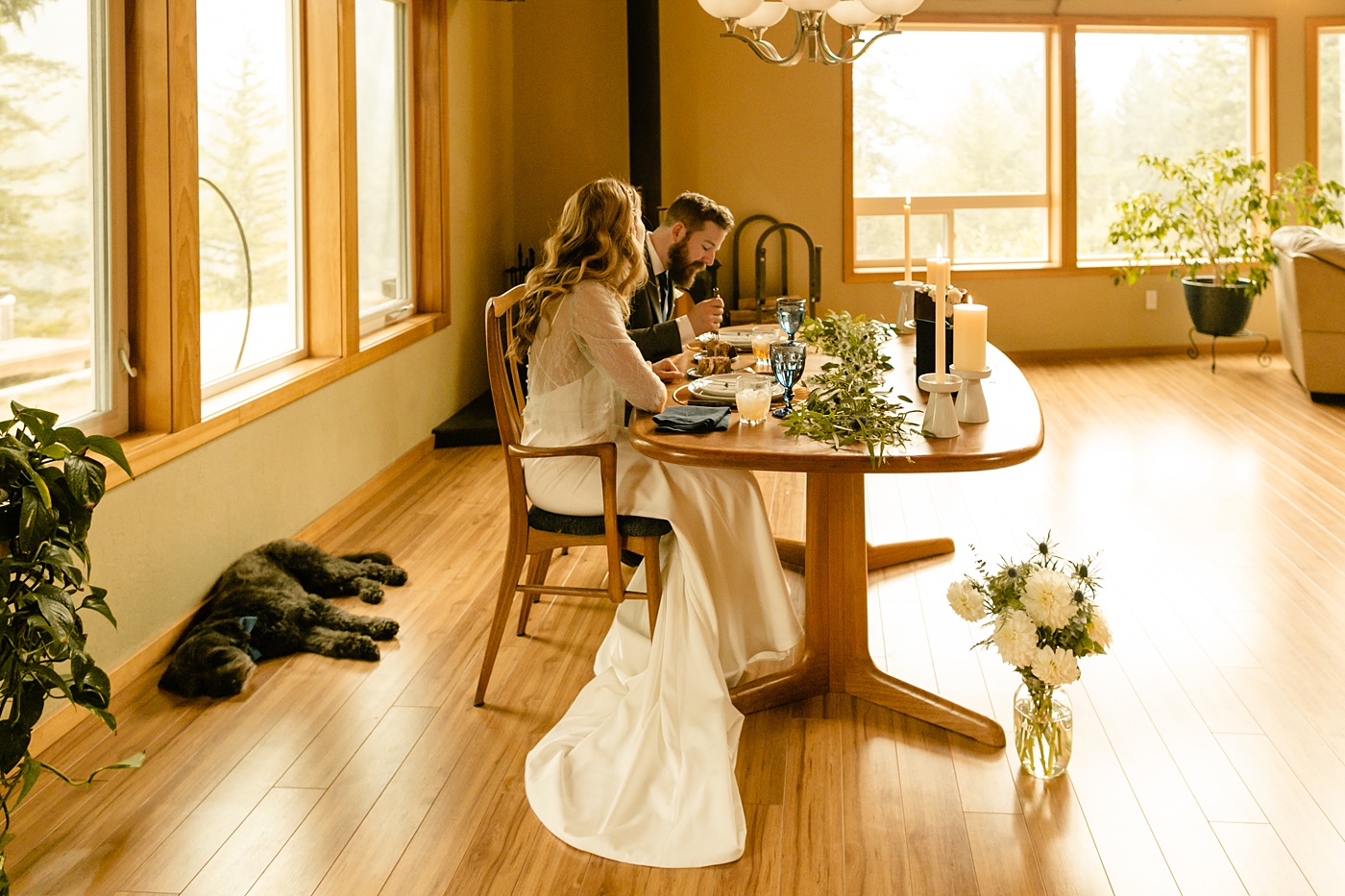 Looking for a photographer to come document your most precious memories? Myself and my team of photographers are here to help. Contact me today!