Sunrise Cannon Beach Elopement Photographer
Oh, does this elopement make my heart skip a beat. Amanda and Brett found me on Instagram when they needed some help dreaming up their perfect elopement.
We connected about how they wished to elope with just the two of them. They wanted a romantic and whimsical place to celebrate their love. I shared from my own heart with them that Cannon Beach is my favorite place in the world. They did some additional research to be sure. After a few days, we knew it was a perfect match.
In true sunrise elopement fashion, Amanda did her own hair and makeup for her wedding day. Of course you could find a professional hair and makeup artist to come join you. Lots of business owners are willing to wake up dark and early for you. But Amanda and Brett loved that they had a quiet morning with just the two of them. They helped each other get ready for their sunrise elopement and met us at the parking lot of the beach. (Similarly to how Heather & Chris helped each other get ready for their best day ever, too)
Amanda wore this stunning lace Adelaide dress by Willowby from the local Seattle a&bé bridal shop. Her earrings were purchased from an Etsy shop, Reese Hayden Studio. The unbelievably beautiful crown style ring came from the Etsy shop, FYM jewelry design. Her boho bridal bouquet came from a local florist, Debbie, owner of Cannon Beach Florist.
I love when couples choose to shop small for their wedding day. It allows them to find unique pieces that speak to them.
Do you need a photographer for your own Cannon Beach wedding? I would love to connect!
We chose Hug Point for their elopement. It is a cute cove along the Oregon Coast that we knew would give us lots of texture. When the weather is nice, this beach can get incredibly crowded - especially the small parking lot. We opted for a sunrise session vs. a sunset session to allow not only soft lighting but also a bit more privacy. I sent them some photo-esque spots to give them a visual of the location. They knew we couldn't go wrong in our choice and expressed to me that they wanted to choose their ceremony spot in the moment. A true sense of adventure, don't you think? (Check out another elopement at the Washington Coast where the couple did the same!)
We arrived just before sunrise so the coast would be quiet and secluded. They wanted lots of space to read their vows to one another, without any distractions. They wanted the soundtrack of their ceremony to be the peaceful sound of the ocean. What a way to vow your heart to one another, you know? I love it.
I'm grateful that my job allows me to document love stories in places where my heart is set on fire.
Carolyn of Oregon Beach Ceremonies was their officiant for their ceremony. I absolutely love working with Carolyn. Her knowledge of the Oregon Coast is endless, with her being a local herself. You can tell hat her love for what she does is unmatched. You can get to know Carolyn more in this vendor spotlight blog post. Carolyn lead a beautiful ceremony for Amanda and Brett. My husband, Nathan, was my second shooter and we were the sole witnesses to sign their marriage certificate.
It was a gorgeous, foggy morning. The forecast gave us little to no wind. After their ceremony, the sun started to rise over the hill. As the sunshine made its way through the clouds, our jaws were on the floor. The rays of light danced along the coast as if in celebration of their love and their joy. It was truly magical. The perfect ethereal touch, thanks to Mother Nature.
Psst! This sunrise Cannon Beach elopement was also featured in Oregon Bride Magazine.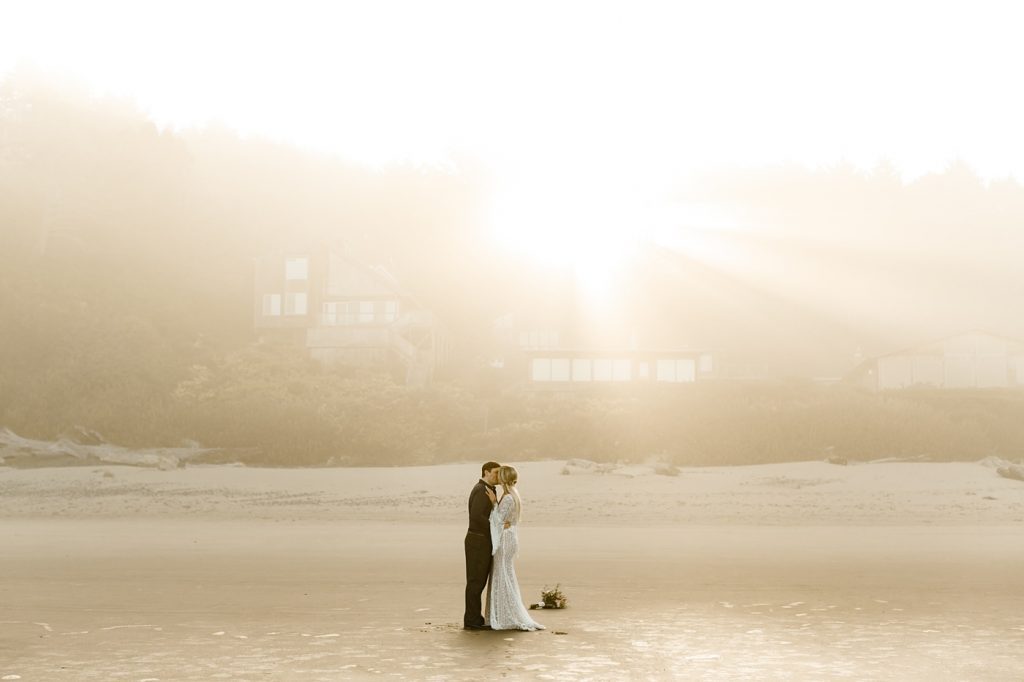 THE TESTIMONIAL DIRECTLY FROM THE COUPLE:
It's hard to put into words how incredible Taylor is. I found her on Instagram and instantly fell in love with her style and overall energy and vibe she gives off. She is the kindest, most easy going, enthusiastic person, which was so important because she, and my officiant were going to be the only people there with us. No family, nothing.

My now husband and I planned to elope on the Oregon Coast and lucky for us, Taylor ended up being THE BEST resource for us when trying to find the right location. She essentially was my wedding planner as well. She even scouted out a location (which I ultimately chose to have our ceremony at because of her thorough investigation) and took lots of pictures and videos to help me make my decision.

She also researched the potential need for a permit, and even offered herself to be my officiant if I hadn't found one yet.

I have read alot of stories from other couples who have had a cold, robotic wedding photographer. You will not have this with Taylor. You can feel her heart and passion for what she does, and she is damn good at it.

No exaggeration, everyone I know has told me that my wedding photos are the best they have ever seen.
Heck, they are the best I've ever seen too! She truly captured our personalities and love for one another. My husband and I are not photogenic at all, and we instantly stiffen up at the sight of a camera.

Taylor made us so relaxed and it truly shows in the picture. I can't stop looking at mine, and I smile every time I think about that day and Taylor played the biggest role in making it so perfect.
On a personal note:
I will never stop dreaming of one day owning a home in Cannon Beach. It has been a place my heart has felt at home ever since I was a little kid. Growing up, we used to go every spring break. Now that Nathan and I are in Seattle, we try to carve out a weekend getaway any chance we get. Owning a home more central to the coast would really help the travel aspect of that, haha.
Being able to explore the coast with new eyes and the passion I have for storytelling. I have this huge list of all the places I want to see and do. When we only have one weekend at a time, we've found ourselves sprinkling in new adventures between all of our favorite spaces. After our own wedding, we even did a local mini-moon. Choosing Cannon Beach specifically.
My passion of photography has always been personal and fueled by my own heart. I can't help feel like a part of my own story is intertwined in these beautiful galleries from the coast. I'm endlessly grateful to the couples who understand and trust me in that. Mark my words, friends. One day I'll own a cute little cabin here for extended stays at my favorite place in the world. NO dream is too big.
Are you seeking your own Sunrise Cannon Beach Elopement Photographer?
I'm your girl. Seriously though. Contact me today! Let's document your love story in one of the most magical locations in the Pacific Northwest.