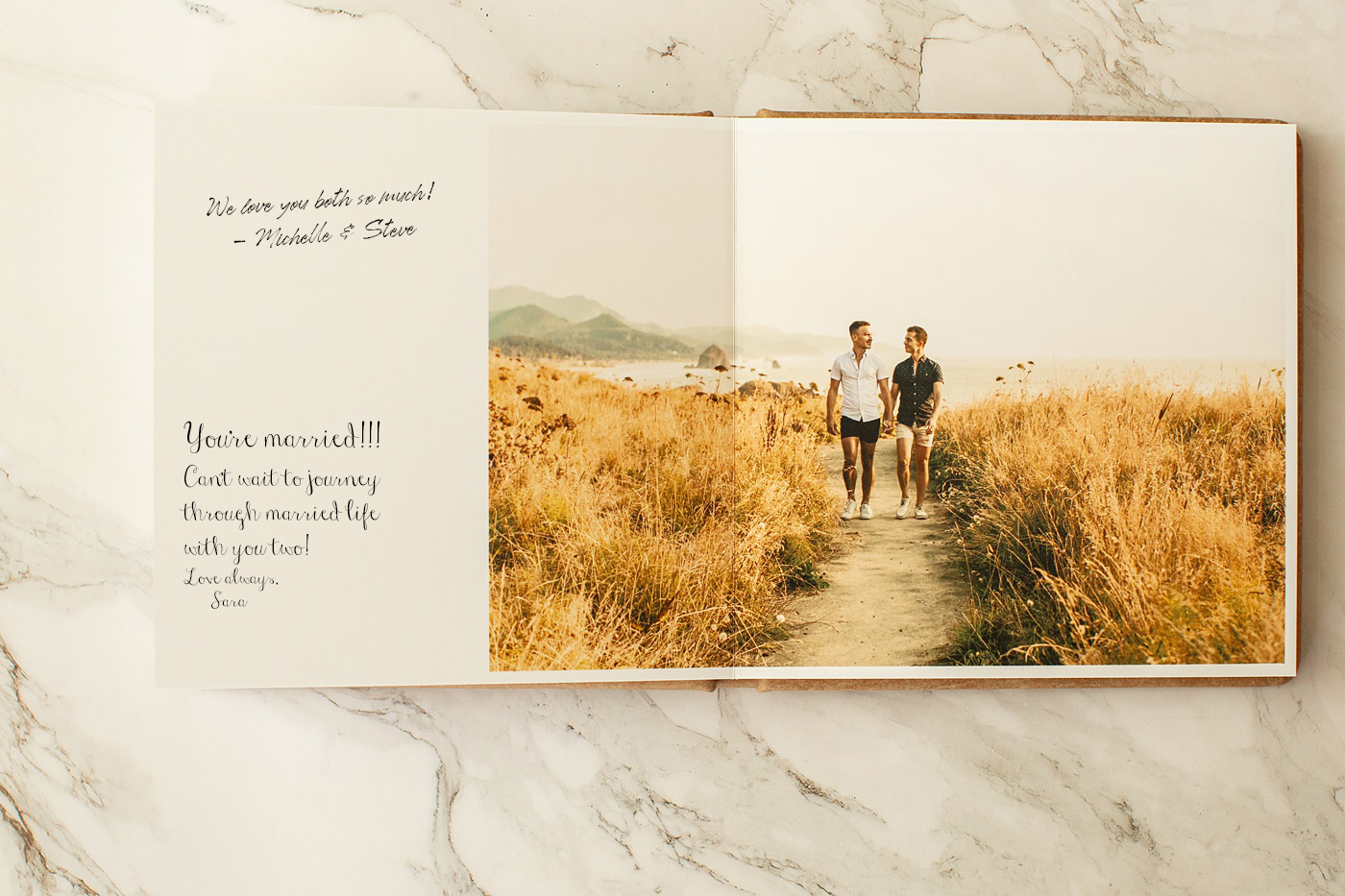 Ideally a guest book allows you to look back and appreciate all your loved ones who helped celebrate your big day. Traditional guest books are harder to display, sometimes getting overlooked entirely by guests. Here are some unique guest book ideas for your wedding that will surely stand out and double as art.
Unique Guest Book Ideas
Using Your Engagement Photos
First up is using your engagement photos to create an album that your guests can sign when they attend your wedding. Not only is this the perfect use from your stunning engagement photos, but you also get to showcase them to all of your wedding guests. If you choose to go this route, make sure to leave extra spacing so that your guests have room to sign!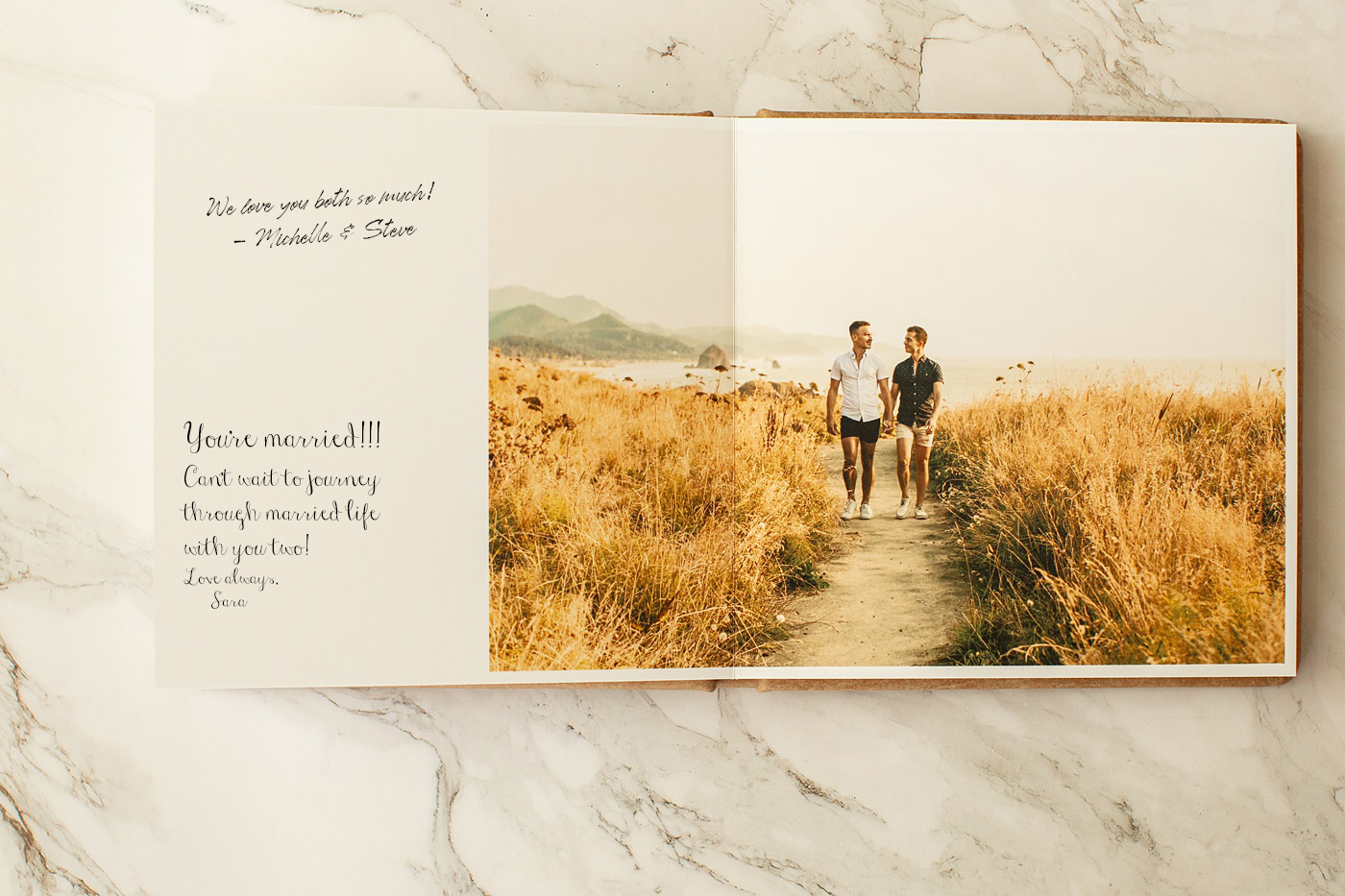 At the heart of this simple and elegant wood puzzle is your shared last name, first names, and wedding date. You can customize how big of a puzzle, based on how many guests you expect. The blanks allow your loved ones to share advice or words of love to fill in around you both. A unique and cool decoration for your ceremony, that can be put together every year, or framed as art.
If you and your partner love to travel, a personalized world map, is such a unique guest book idea. "Home Is wherever I'm with you", your names and wedding date will be printed and ready for your reception. Guests can sign in around the map, and you can later frame and hang this cool alternative.
Any long time surfers will love this wooden guest (surf) board, made with green materials to last your lifetime. With options to customize the color and font of your name and wedding date surrounded by tropical leaves. It comes with a sharpie for your loved ones to sign, and command hooks for you to secure it to your wall after. A truly unique guest book idea, that can be a part of your forever home and art.
This personalized world globe is customizable in size, color of calligraphy, and is sure to make a statement. Your loved ones can sign with a paint marker (found at any craft store). The globe can be used as decoration for your ceremony and a sweet reminder at home.
This alternative and unique guest book features lyrics to YOUR song and a realistic looking record for loved ones to sign. While not actually a vinyl record, you can easily frame and hang this print for years to come. A sweet way to commemorate your song as a couple, and the coolest decor addition for music lovers.
At first glance this navy and pink watercolor wash guest book with custom foiled lettering looks like any guest book. What makes this a truly unique guest book idea, is having your guest take polaroid snap shots before they sign. Making a book of happy memories that could live on your coffee table for years to come.
Last, but definitely not least has got to be one of the most unique guest book ideas ever, After The Tone. They provide you with a vintage phone in the color of your choice, sanitized and ready to set up. On the big day ask your guests to "sign" by using this phone to call and leave a message. Hearing the happiness and sweet words of your loved ones, these will be messages you'll want to keep for life.
Don't settle for the traditional
When planning for your wedding don't settle for the traditional. Little details, like these unique guest book ideas can make your memories last. By picking an alternative unique guest book, you can keep your big day centered in your everyday life.
Looking for your Washington wedding photographer?
It would be an honor for me to capture your special day. Fill out my contact form here and we can chat about your wedding!