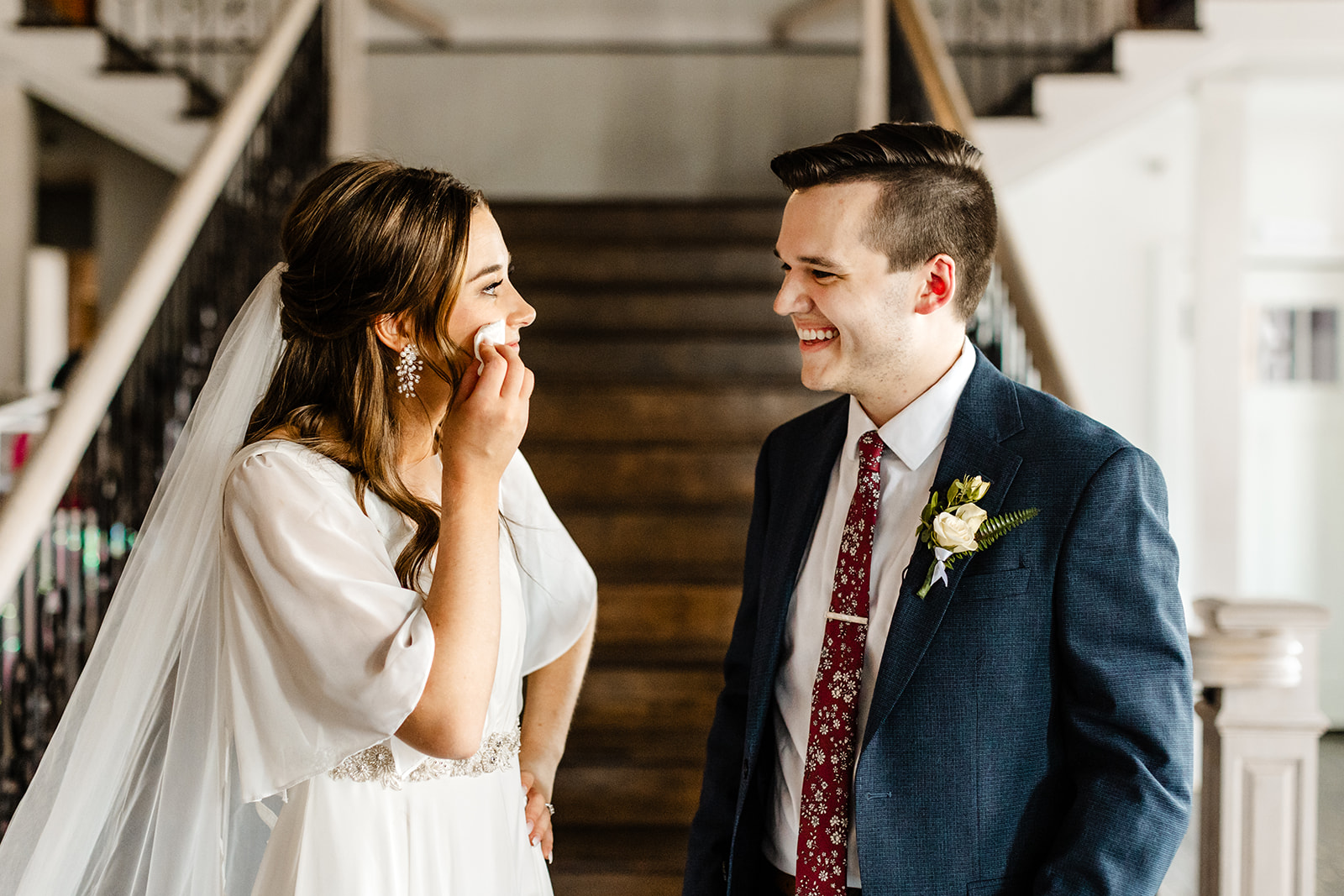 Candid wedding photography, also called documentary wedding photography, is an important part of your wedding day. Of course, your wedding isn't a styled shoot! We want you to be able to flow through the day naturally, enjoying the time and space, and creating memories, not just posed portraits. But, I know the struggle for couples that have spent so much time, energy, and money on making their day look a certain way, on hair and makeup, and on your outfits. You want to make sure those things are captured in an artful, natural way. Don't worry, because I've got your back! I will make sure we get plenty of posed AND candid moments, like in Hanna and Brett's wedding. And to make sure you feel prepared as well, I've got 5 tips for couples on getting the most out of their candid wedding photographer.
Importance of Being Yourself for Candid Wedding Photography
This one seems obvious, but it can be really hard in a fancy dress and makeup and surrounded by people to be yourself. Not to mention, there's a trend on Tik Tok showing people practicing their "soft smiles" for their wedding day. Of course, this same trend goes on to show the amazing and real expressions of emotion that actually occurred. That's what we want! That's what you want to look back on! So, don't even bother practicing poses or expressions, because I want you to react to the day authentically. Be yourself! Let your personalities shine through. If that means not inviting certain people, having a more intimate celebration, or going with non-traditional events, then do it! When you look back at your candid wedding photos, you want those to be positive memories.
Build Trust with your Wedding Vendors
When you choose vendors, make sure they're people you're excited about. Look at their portfolio of work, pay attention to how you feel about their communication style. Maybe you want someone who communicates a lot and quickly, or maybe you want to be left alone! Whatever it may be, those initial moments of interaction will tell you a lot about how you'll feel about them.
Besides compatibility and communication with your wedding vendors, you'll want to build a rapport to feel more comfortable with them. Because, you'll be around them more than anyone else! This doesn't mean you have to schedule a bunch of calls with your photographer. You can do this the morning of your wedding by chatting as you get your hair and make up done. Or, better yet, follow your vendors on Instagram so you get a sense of their personality!
Set Realistic Expectations for Candid Wedding Photography
Part of the documentary photography style is that we're not making things happen. There are little to no contrived moments, especially ones meant to be emotional. Your partner or parent doesn't have to cry during a first look, for example. If that's not who they are! You'll want to come to terms with the fact that part of candid photography is capturing things as they are. That means, not as you imagine them to be. So set aside all preconceived expectations of how you'll feel, how the day will go, and what others will do. Enjoy the moment, focus on the day as it passes, because it's true that it'll go by in a blur.
Planning Ahead for Candid Wedding Photos
This might seem counterintuitive, but creating a timeline with lots of flexibility and space can ensure more down time and less stress, leading to more documentary style photography. Instead of trying to cram a lot of portraits into a short amount of time, we can leave a large space in the day for posed, knowing that some of that time will be good for in-between moments of interaction with bridal party, your partner, and family.
In addition, you don't have to schedule out your reception to the second. Sure, we want to plan all big events to happen within the time your photographer and videographer are there, but maybe that means adding an hour to allow flexibility will help. More candid moments happen when you're not as rushed to get through things. Having a venue where everything happens in one place can help with that. Or, for a more intimate wedding, going with an Airbnb!
Help me Help you
One of the suggestions I give to couples who want more cute, candid moments, especially with their partner is to make a point to stay close to them throughout cocktail hour and the reception. Too often, couples will divide and conquer so they can greet the most amount of people. With that, you get a lot of candid moments where you're not together. Instead, walk around together, share secret moments throughout the time, and remember that this day is about the two of you!
Candid wedding photography can be such a beautiful storytelling tool for your day. Or, if not for a wedding, for your Seattle engagement shoot. It's the in between moments you wont realize were happening. Those will be the cherished memories. And, I'm here to help you make it happen! Through being yourself, creating space in your timeline, trusting your vendors, setting realistic expectations for yourself and your partner, and making sure to stay close to the important people, we'll give you the documentary style wedding of your dreams!
If you're looking for a candid wedding photographer, let's connect!