I first met Todd and Michael when they traveled to the Oregon Coast, where Todd proposed to Michael. They are such a fun couple, and their Chicago elopement at Charcoal Factory Loft could not have been more perfect. They created a cozy wedding day centered on their love and connection, with good food and company to celebrate alongside them.
The Couple
Todd and Michael met at OrangeTheory. They lived in the same apartment building, but didn't know it at the time! They quickly became the best of friends, and it sparked into something more. The pair spent several years traveling from Europe to South America together and adopted a cat. And then - "Our lives were already effortlessly intertwined and we ended up realizing that our relationship was so strongly founded in love for the other person that no pandemic could interrupt us. In fact, we felt like our relationship flourished during the forced time quarantining together. Engaged and excited, we decided to set forth and plan a Chicago elopement."
A Chicago Elopement Venue
Charcoal Factory Loft ended up being the perfect venue for Todd and Michael. Todd has an expert eye for interior design, and Michael loves fashion. The two passions merged in this space, which has unique textures, one-of-a-kind artwork, and an eclectic mix of old and new. This venue provided them a space to shelter from unpredictable Chicago weather, but still gave them the room and the vibe they were looking for.
Todd and Michael were able to set up the venue space themselves the morning of their elopement, which gave them extra time to spend with each other before the ceremony. A close friend of theirs got ordained to perform the elopement, making it a unique and very personal experience!
Eloping in a Pandemic
Todd and Michael, like many engaged couples over the last two years, had to take a hard look at their wedding plans and decide on the most important pieces. While they initially imagined a big, traditional wedding, pandemic restrictions wouldn't allow this to happen. They created a celebration solely focused on the two of them. They channeled the essence of their relationship into a Chicago elopement that was fun, genuine, and passionate. "We found the most joy in the small moments and details that we would've missed in a big event. We wouldn't trade those intimate memories for anything."
Chicago Elopement Vendors
Venue: Charcoal Factory Loft
Florist: Sprout Home
Catering: Ema Chicago
Cake: Sweet Mandy B's
Groom Apparel: Suit Supply
Accessories: Shoes from Christian Louboutin
This wedding was featured on Love Hard Honey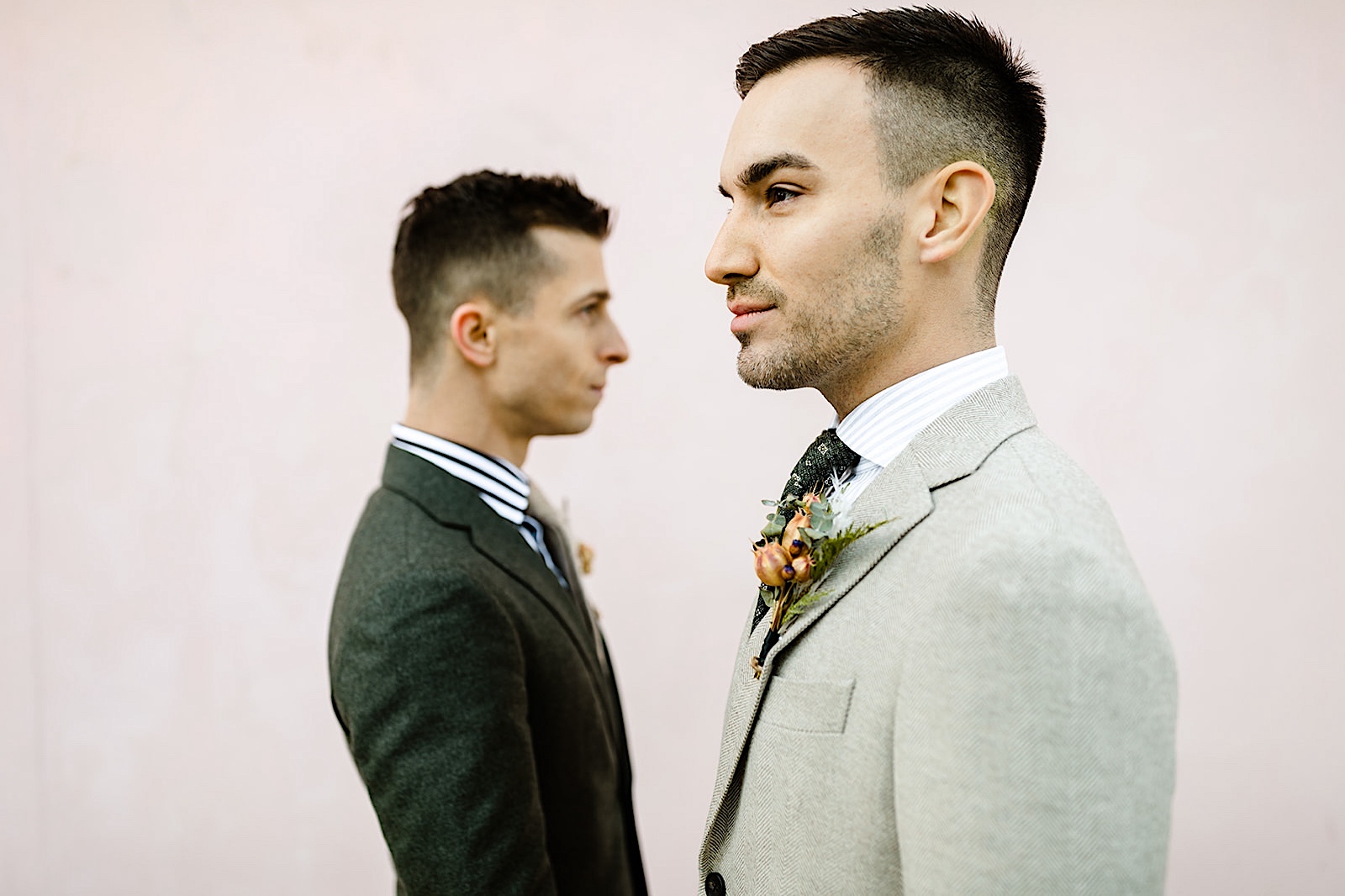 Planning a sentimental elopement for you and your partner? I'm ready to help you craft your perfect timeline for an unforgettable day.