One of the best parts of your engagement session or photoshoot might be the opportunity to bring your fur-baby along for the ride! We've chatted about the best general locations for photoshoots near Seattle in the past, but today I want to chat about dog-friendly photoshoot locations near Seattle. It would be a bummer to have your session interrupted because of a location-violation. Never fear! I'm here to make sure everything goes smoothly, and I've got the tips for you. You'll find that most parks are dog friendly in the PNW but not all. So let's go over tips for making the most of pet-friendly photo sessions and then those top 10 locations!
Room for Your Dog to Play
I like to prep people for their shoots with pets. Just like kids, dogs can be unpredictable! Picking a park with more area for your dog to play or roam gives us the most amount of options. This will allow your pet to be themselves. Plus, getting out some of their energy will help us get some posed photos as well.
Choose the Best Time for your Dog-Friendly Photoshoot
Consider a weekday session or sunrise session to avoid a bulk of the crowds! We know that most dogs love finding new friends in other people or animals. To avoid too many distractions we can choose a time of day or week that will cut down on those extraneous crowds.
Dog-Wrangler for Your Photoshoot
Bring a friend or family member to help get attention, bait with treats, or hang out with your pup while you get photos of the two of you solo! We love your pup, and we'll make sure to get plenty of shots with them in it. But, the photoshoot is also about you. We want to make sure we get some time without the pup in the photos so we can do more creative poses and prompts. This might mean asking a friend or family member to tag along and hang out with your dog while we get the other shots!
10 Dog-Friendly Photoshoot Locations near Seattle
Gold Creek Pond
Located in Snoqualmie Pass, not far from the freeway, Gold Creek Pond is a great option if you want beautiful views, plenty of space, and easy access. The pond is down a flat path just a couple minutes from the parking lot. This makes it perfect for accessibility. Winter months, it can be really hard to make it to the parking lot, which makes the walk to the pond considerably longer.
Franklin Falls
A short and relatively easy hike for a great pay off! The view of Franklin Falls from down below is beautiful. There isn't as much room for your dog to explore and you'll probably want to keep them on leash most of the time. But the waterfall is epic! Keep in mind that during the winter the whole road up to the hike is closed.
Discovery Park
Discovery Park, as a park within Seattle, it's a great location to bring your dog! It's over 500 acres of different terrain. Discovery Park is good for photoshoots because there are so many options for backdrops. I definitely recommend bringing a helper with you to this location since the park is huge and we'll be moving around a lot.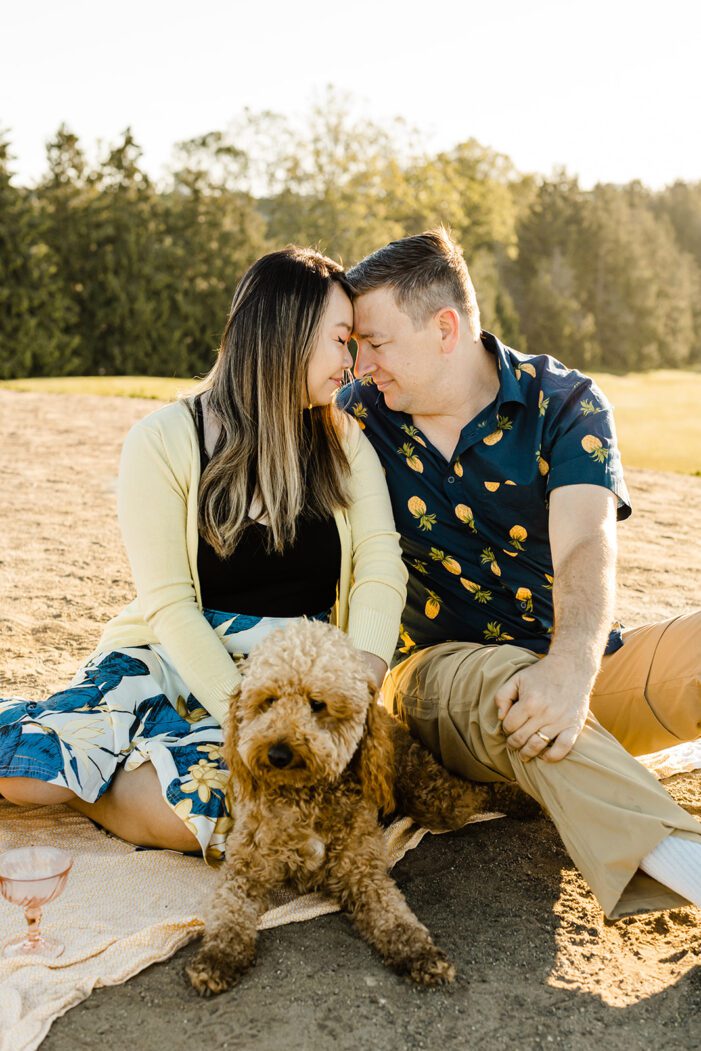 Gas Works Park
Gas Works Park is an iconic location for any photoshoot! The former location of Gas Light Company in Seattle, it has views of the water as well as cool architectural reminders of the past. Of course, it's dog-friendly, but we'll want to be aware of timing as this park can get crowded!
Ebey's Landing on Whidbey Island
Not as close to Seattle as some of the other locations but perfect if you're coming from up north! Ebey's Landing has a beautiful vista of tall-grass fields along the ocean. Your dog will have fun running the beach and playing in the water. Since there isn't a ton of shade, picking the perfect time of day for light will be best.
Smaller Public Parks
If none of the bigger, more well-known locations fit your fancy, we've got other options! This is where trusting your photographer comes into play. Oftentimes, I'll just do a quick search on Google Maps to identify some new and interesting locations. This will give you a unique location to your photoshoot!
Sniffspot
Another option is to rent a private property through Sniffspot where your dog can roam! A lot of PNW yards have a "wild" look to them and even can be fully fenced in to get some of those "off-leash" looks! This can be a cool option for keeping the area without crowds as well, giving us more freedom of posing and prompts.
Rattlesnake Lake
Another iconic location in the Seattle area, only 45 minutes outside the city. Rattlesnake Lake is easily accessibly from the parking lot and you don't even have to hike if you don't want! The view from the bottom is beautiful. But, an option for those adventurers is hiking up to the lookout which will give you some stunning views. However, it's important to note that this is another location that can get really crowded so work with your photographer to figure out best timing.
Your Favorite Date Night Spot
This can be a tricky one. Not all restaurants are dog friendly so you may need to get creative with this. A lot of restaurants can't allow dogs because of their food safety rules. Breweries and drive-in's are great choices! This can be so cute because breweries will also have some yard games you could play to make the shoot even more dynamic and fun!
Alki Beach
Alki Beach as an option is great because it has such a beautiful view of downtown Seattle! Plus, after some classic shots on the beach, we can hop on the water taxi (which is dog friendly) to bring you back to downtown Seattle for a more urban-vibe!
National Forests
National Forests such as Gifford Pinchot National Forest, Olympic National Forest, Okanogan-Wenatchee National Forest, and Mt. Baker-Snoqualmie National Forest and more are perfect spots for your dog-friendly photoshoot. Make sure to read about pet reminders in regards to these locations. I like to mention the caveat that while dogs are allowed in national forests, that doesn't include national parks. Make sure to always check the up to date information here.
Whether you decide to go with one of these locations or somewhere else, bringing your dog to your photoshoot is a great idea! Just remember the tips to help you make the most of your session. Choose your location based on if your dog can roam free or has to stay on a leash based on their preference. Have your photographer help you pick the best day of week and time of day. And, lastly, see if you can bring a friend or family member to help the wrangle your fur-baby so we can get some photos of you alone!
I'd love to capture you and your doggo in action! Let's connect!