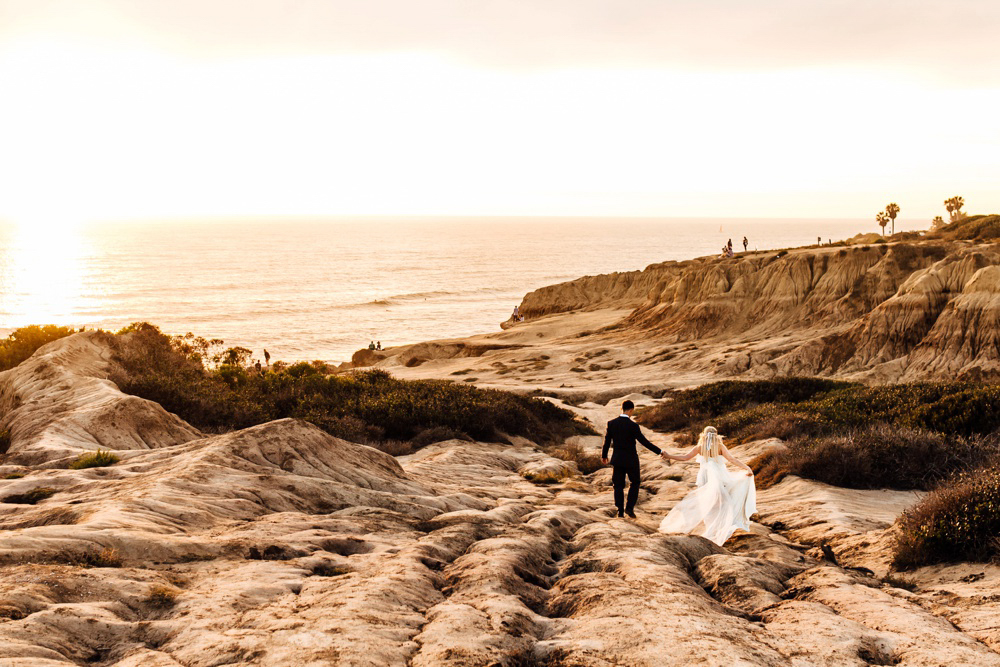 It's been a dream of mine to shoot a elopement at the sunset cliffs in San Diego, and I'm so happy I had the chance to set up a styled shoot to do just that. So many good vibes came with this romantic elopement styled shoot. You really can't go wrong with such a beautiful environment to get married to the love of your life. Jenny from JenEvents helped me set up this shoot. We got this gorgeous flowy Elizabeth Dye dress and complimentary jewelry from Nic and Day Bridal. Friar Tux provided the very classic Allure Men Tuxedo in Steel Grey. I connected with Kendra from Kendra's Floral Design for a succulent bouquet that had the perfect elopement feel for the vibe of our shoot.
The featured couple for this shoot is really married, which was my jam because working with real couples as models and working with genuine chemistry between them is always more rewarding at the end of the night. I love creating moments where the couple feels like they're on their own special date night. Letting them share little whispered secrets and encouraged playful giggles to showcase the joy they share of being together.
As a documentary-style photographer, I find it really important to focus on poses that the couple I'm working with can sink into naturally and effortlessly, and these two seemed the most comfortable being in each others arms. Also, the sunset this night didn't disappoint. There were such incredible, vibrant colors that washed over them. Towards the end of this shoot, as the sun set over the horizon, I asked them to snuggle up and dance together to their own beat, and took a few moments to step back. I loved watching these two interact together. It was easy to be captivated by their love.