When booking a photographer for your wedding, trust is key. You need to find a photographer who will treat you and your partner as a unique couple, and not like everyone else they shoot. This brings the question, "Should I write a shot list for my photographer?". Personally, I like to ask my couples for the moments they want documented.
One of the many things I love about Claire and Kyle is they eloped in a way that was perfect for them. That is so precious to me! Immediately I knew they were different. They booked me last minute because they didn't want to wait when it came to getting married.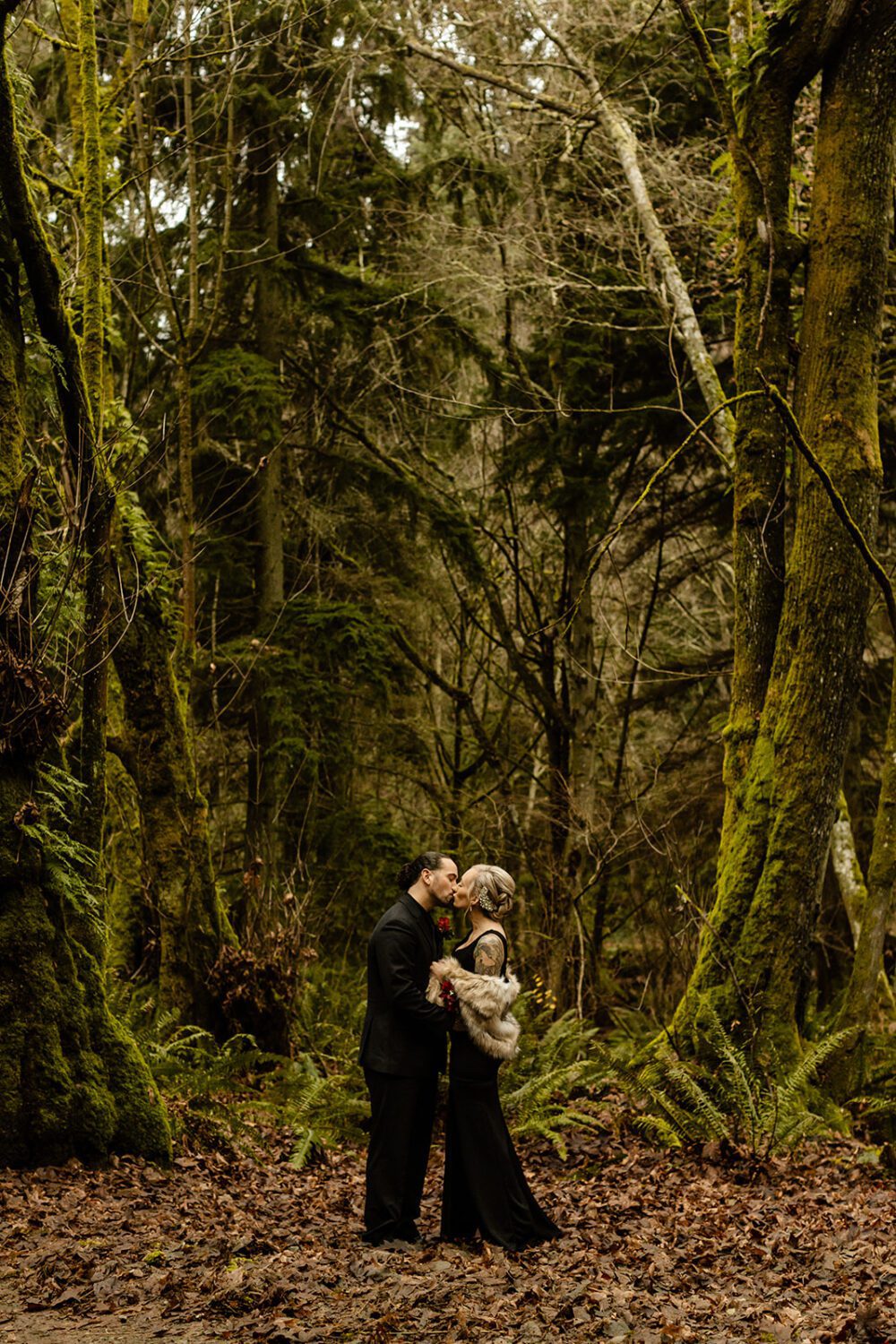 They held their ceremony at the Burien Courthouse, and due to Covid I wasn't allowed inside the courthouse. So instead of shooting during their ceremony and afterwards, we shot photos prior to their elopement.
Claire and Kyle trusted me to scout some locations near the courthouse. One of these options was a parking lot (look at the photos for proof how beautiful a parking lot can be). Following the parking lot, we also got some more shots at a nearby beach.
There are many things I love about Claire, but especially how she chose a black dress, matching Kyle's suit. They looked so sleek and elegant. You know who also matched perfectly? Their doggo, Rolo!
Rolo sported a little tux, and he definitely worked his modeling skills for the camera. If you haven't seen a Pug in a tux before, this is something you don't want to miss.
Communication is Key
I love to chat with my couples and find out which moments they desire to have documented on their wedding day. This can look like: a first look with your fiancé or parent/guardian. Or even shots with your doggo, just like Claire and Kyle chose.
It's good to discuss the things that are important to you when it comes to what shots you want. This can look like: tokens of remembrance in a bouquet or a gift you're planning to give to your partner. Even surprise gifts for your guests can be important.
I need to know about these items of importance so come wedding day I can document memories as they unfold. If needed, I add it into my timeline so I remember when and where to be at that moment.
When it comes to posing, I always have a shot list in my head I run through. As much as I love Pinterest, Pinterest inspiration can only get you so far. Some photos are impossible to recreate. Lighting, location, weather, and angles all play a key factor in what is possible.
If a shot list is too put together and micromanaged, we'll miss out on genuine photo opportunities. Why mimic photos of other weddings when you can have a gallery full of photos that FEEL like you? How YOU interact together, laugh together, and hold each other.
When searching for a wedding photographer, a good rule of thumb is to ask to see examples of full wedding galleries. When looking at full galleries you'll see different lighting situations and various (and similar) posing the photographer shoots. As well as moments they capture from one wedding to the next.
After reading this blog post, "Should I write a shot list for my photographer?" is a question you shouldn't have to ask again! Your wedding is unique, and you need to find a photographer who can shoot your wedding as YOUR wedding. So if you're looking for that photographer, you found her! Hint: it's me! You can book me for your wedding here.