Guest Books & Wedding Albums
Ahh, albums. The keepsake that, I think, us 90's kids know very well. I remember flipping through photo albums of my parents wedding and albums of my childhood. Did you ever do that? Don't get me wrong, I think having access to all of these photos on our phones and computers is SO great, which is why all of the galleries I deliver are in an online format.
Albums are a truly beautiful way to display your love story in your home. There is nothing quite like having a tangible print to hold, share, and cherish.
It's magic.
Put it on your coffee table or on a bookshelf. Watch and hear and feel all the love as you host family and friends and break out the album to gush over how cute you guys are (No shame in my compliment game). See how your parents light up when you gift them a gorgeous parent album for them to keep in their own home. It's simply the best gift you can give.
PRO TIP: Did you elope and now planning a larger gathering for a later date? An album filled with elopement photos surrounded by blank pages and open spaces will make a perfect guest book album for your reception! You can do this with your engagement photos, too!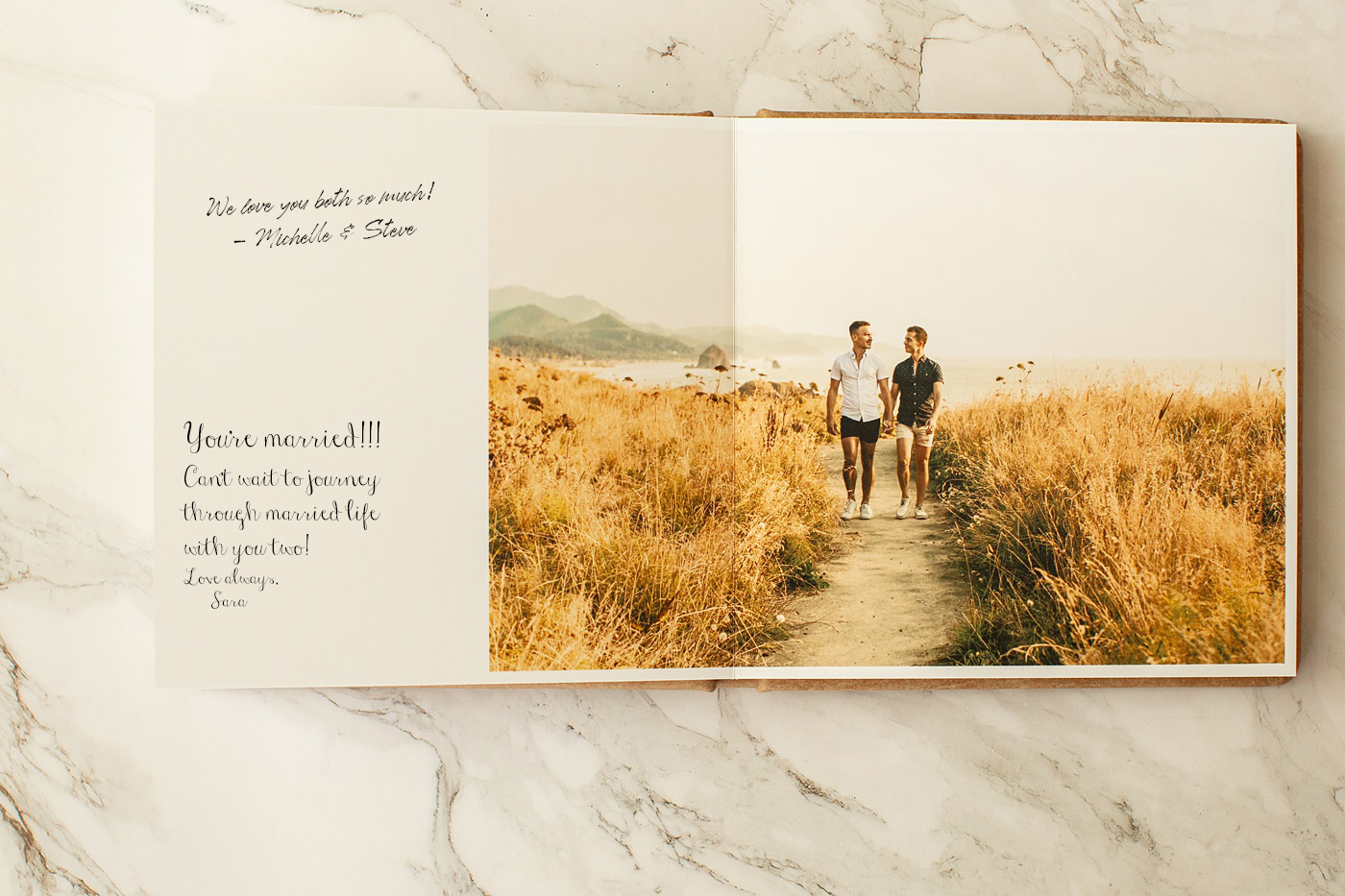 FAQ: Guest Books & Wedding Albums
Below I've written some FAQ about album ordering. After reading this, don't hesitate to ask if you have more questions!!
Why would I get an album through you instead of Shutterfly?
Yes, Shutterfly is cheap. But it's true what they say about you get what you pay for.
The album you order through your gallery is sent to a professional lab that only allow professional photographer's to order from. These albums are beautifully section-sewn or hand-bound (depending on your album choice) and each one has premium quality built to last.
The top-quality inks that these labs use mean that your photographs won't fade, staying warm and rich for you and your family to enjoy deep into the future.
These professional labs use only the highest quality materials to preserve and display your precious moments. These are meant to be cherished for a lifetime.
You can consider this album as an investment in a one-of-a-kind heirloom for you and your family.
P.S. Selling products is not my money-maker. The prices of these albums are actually significantly lower than industry standard in the photography world. I know the importance of having your photographs printed and the beauty in being able to hold a tangible product is unlike anything else. For these reasons, I try to make them as affordable for you as I can.
---
How much do guest books & wedding albums cost?
The default through your gallery is 24 pages per album, with an additional cost per spread.
LAY-FLAT ALBUMS:
8x8" Album starting rates:
Fabric Cover Album: $425
Buckram Cover Album: $450
Leather Cover Album: $475
+ $22 per additional spread
10x10" Album starting rates:
Fabric Cover Album: $525
Leather Cover Album: $575
+ $24 per additional spread
11x11" Album starting rates:
Buckram Cover Album: $600
+ $24 per additional spread
12x12" Album starting rates:
Fabric Cover Album: $625
Leather Cover Album: $675
+ $28 per additional spread
PHOTO BOOKS:
8x8" Photo Book starting rates:
Fabric Cover Album: $355
Buckram Cover Album: $355
+ $14 per additional spread
11x11" Photo Book starting rates:
Fabric Cover Album: $425
Buckram Cover Album: $425
+ $16 per additional spread
---
What's the difference between Albums vs. Photo Books?
Albums: A lay-flat, beautifully handcrafted premium choice. The elegant albums are hand-bound with the highest quality materials to preserve and display your memories. Covers are available in linen, a more durable cotton fabric called buckram, or leather, and in a range of sizes. This album is really great for that panoramic "wow" factor.
Photo Books: These are still classy, fam. They are crafted from top quality materials and section-sewn to give lasting quality and panoramic spreads that open to lie near-flat. Covers are available in linen or buckram (leather is not available for these bad boys), and in a range of sizes. These are the perfect companion to albums or as their own stand alone keepsakes.
What's the difference between the cover options?
Linen Fabric: An elegantly textured, natural woven fabric with a timeless appeal.
Buckram: An extremely durable cotton fabric, coated with a subtle sheen with a contemporary chic. Buckram covers are a gorgeous modern twist.
Leather: The traditionally premium way to wrap your your beautiful memories in a special keepsake.
What is the design cost breakdown?
I choose the photos + design: $250
You choose your favorites, I design: $200
You choose the photos + design: FREE
You'll have the opportunity to proof each page through your gallery and personally let me know of any notes you'd like me to change before we send it off for printing. They make it so easy for both of us to do this and I LOVE IT.
Do you got some DIY vibes in your blood and you like details? I'd bet you would prefer to design your wedding album yourself. If that's the case, I wrote a tutorial for how to build your own album via your photo gallery.
Side note for the layout design: Your PASS gallery can automatically generate an album with the layout preset. You can change any of the photos, design, etc, or you can start from scratch. If you're not sure where to start, the auto-generated album is my recommendation!
What is the turnaround time when I order?
Once you actually place the order of your album via your gallery, it takes approximately 14-21 days + shipping.
If you'd like to have me design your album, I specifically carve out time in my schedule to sit and build your album. It will take me up to 7 days to design and send to you for proofing. We will go through 2 rounds of proofing before placing your order. This is not a speedy process and it shouldn't be due to the investment in these moments.
Holiday order timelines: It's recommended to get your order in no later than December 12th for your order to likely arrive to you in time for Christmas.
How many photos should I choose?
The number of photos you need will depend on how big your album is. (Lay flat albums can hold up to 30 spreads - which is 60 pages) For a 60 page album, your chosen photos should not be more than 160 from your entire gallery.
You want your album to tell the story of your wedding day, but you don't need to include every photograph.
Focus on trying to keep it a lot more simple. Try to limit your selection to include the ones that really make you feel the feels and bring you right back into each moment.
Overall, I recommend choosing an average of 1-3 photos per page to avoid overloading the album which will overwhelm the viewer. You may lose the impact and the "wow" factor on your absolute favorite photographs if they're overcrowded by lots of other photos.
PRO TIP: If you're having trouble narrowing down all of your favorites - try limiting the number of photos per "moment" from your wedding day. As an example, choose 20 photos that you absolutely cannot live without. Then go back through and choose some additional favorites from each key moment: 6-10 photos for getting ready, 10-20 for the ceremony, 4-8 of the bridal party, 4-8 family photos, 10-20 of you two together, etc.
Guest Books & Wedding Albums
In the album itself, I would recommend keeping these photos in chronological order, as it allows you to re-live the story of your wedding day. (However feel free to break the rules - you do you, boo)
Don't feel the need to fill your album with photos of your guests. Your wedding album should really celebrate YOU and your spouse. If you want to include a section of guests (such as family photos or candids), I would choose ones that has you two included, and maybe have a collage page or spread specifically dedicated for those photos.
Don't be afraid to have some of the best-of-the-best photos take up an entire page or spread. (I especially love this for the lay flat albums) Let the photos speak for themselves. These are the key, big moments or photos that really make you pause and feel all of those same feelings. This turns your photo album into art itself.
Want to see a full album walk through?
Browse through Alissa & Blake or Gina & Jonathan's albums.
Let's make magic, friends.
---
Questions? I've got you.
Shoot me an email and I can help answer any additional questions you have. TMinspired@gmail.com